Styby's dream comes true, he won Czech cup race in his hometown track in Stribro. "Great feelings," said Zdenek. His father was the organiser of the race for the first time and Stribro had a great premiere.

"The race was very good organised, there was a beautiful support from the fans. I would like to thank all of them. I was little bit nervous to race at home, because everybody expected my win. But I am happy now, that I gave a victory to my fans," said Styby.

"I wanted to race hard from the beginning, but at the second curve I fallen down. I had to change my bike but I had a good cooperation with Petr Dlask and we went to front ehere we joined leader Martin Bina. I attacked in the third lap and I was happy to keep it till the end," said Zdenek. "I had a big motivation, so I am fully satisfied with the result."

Results: 1. Zdeněk Štybar (Telenet Fidea) 58:58, 2. Bína (Budvar Tábor) +28, 3. Dlask (Telenet Fidea) +1:00, 4. L. Klouček (Sunweb Projob) +1:33, 5. Mlynář (Max Cursor) +1:53, 6. Zlámalík (Volvo Auto Hase) +2:29.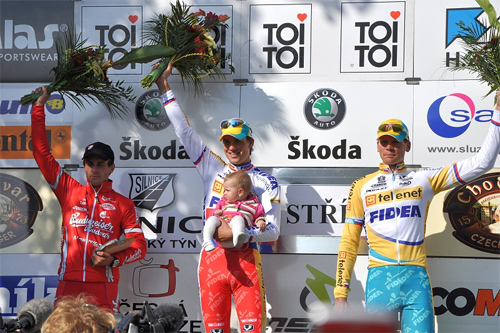 Photo Š cyklokros.cz
By Jan Kruta on 26/09/2009